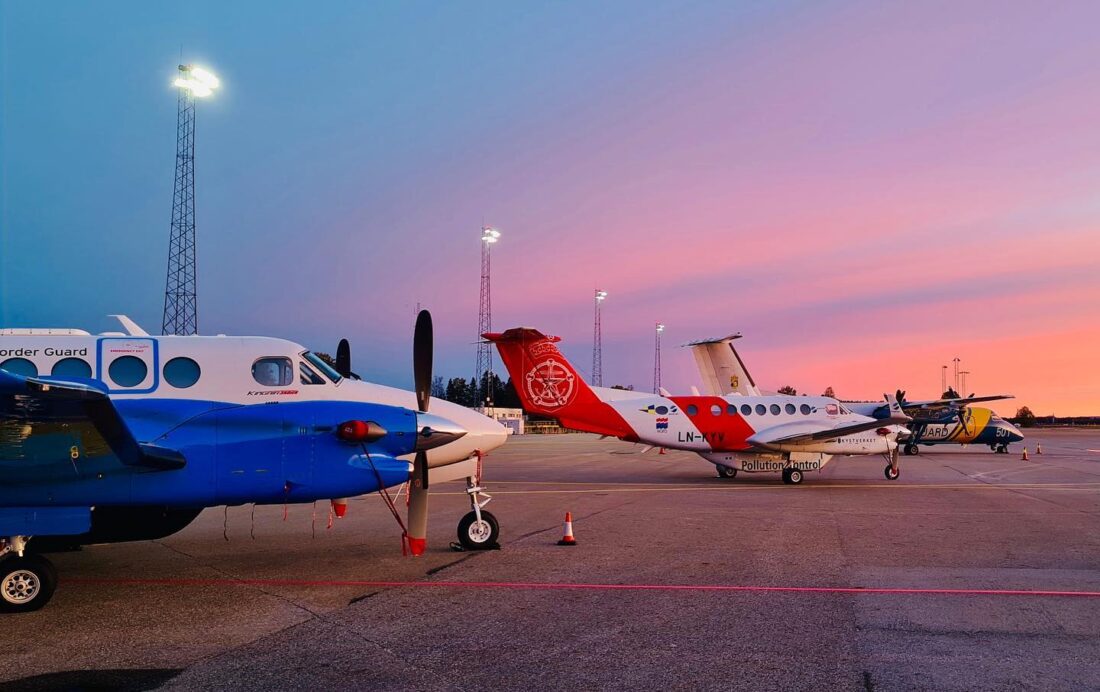 Aerial surveillance cooperation against pollution at sea
Coast guard flights from Denmark, Norway, Sweden, the Netherland, Belgium and Ireland participated in a Super CEPCO earlier this year to detect, control and report oil spills at sea. The operation was this time targeted at the Skagerrak and departed from the Gardemoen airport in Oslo, Norway. A common situation overview was created and four suspected releases were detected.
CEPCOS  (24-hour operations) and Super CEPCOS (week-long operations) are organised under the Bonn Agreement. The exercise are held regularly. All data identified during the CEPCOS are recorded centrally by the Bonn Agreement and published in Aerial surveillance reports
The Bonn Agreement is the mechanism by which ten Governments, together with the European Union, cooperate in dealing with pollution of the North Sea by oil and other harmful substances. The signatories to the Agreement are the Governments of Belgium, Denmark, France, Germany, Ireland, the Netherlands, Norway, Sweden, Spain and the UK.
In 2019 the BONN Agreement celebrated 50 years. The cooperation started after the break-up of the tanker Torrey Canyon outside the coast of Ireland in 1967 with the subsequent release of 117 000 tonnes of oil with disastrous consequences for the environment. This came to be a pivotal point for international cooperation to combat marine pollution. In 1969 the first Bonn agreement was signed and after 50 years the cooperation is still going strong and will continue to effectively address the prevention, preparedness and response to marine pollution. In 2020 – 2022 the Chair of the Bonn Agreement is Annika Wikingsson Strategic Advisor at the Swedish Coast Guard.  You can read more about it on the Bonn Agreement website or watch the youtubevideo.
We are proud to have provided our airborne maritime surveillance system to the coast guard aircraft in several of the countries mentioned.